Looks like Spring is going to be green with military looks being the hottest inspiration. Designers such as Jean Paul Gaultier and Phi were spotted rocking military boots while Rag & Bone, Marc Jacobs, Celine and Louis Vuitton were all rocking military inspired fashions at their runway shows.I actually really don't fancy military print but I am definitely down for green army style jackets and definitely some boots to match.  Think lots of greens, browns lots of neutrals and olive colors in your spring outfits. I have been searching for the perfect combat boots and they are not easy to find. If you've been reading Filthy then you would remember how I told you those combat boots were making a comeback so hopefully your searching for some yourself. I love that whole grunge bad ass girl look. Wear your boots with a dress to mix feminine and edgy. Good luck searching for some hot boots.Here's the inspiration:
Combat Boots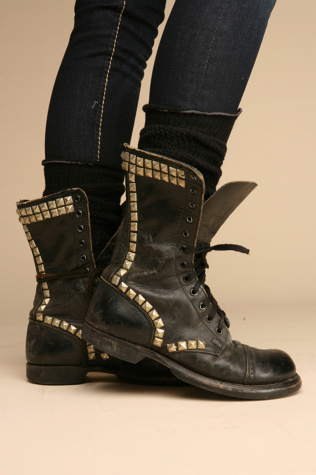 Nicky is rockin those boots the right way. Loosen up the laces for some edge. I am obsessed with these Free People Studded Vintage Combat Boot price:$388.00 they are one of a kind and studded by hand. Wish I could afford these babies..
For those of us who can't buy hundreds of dollars worth of combat boots opt for these Forever 21 ones for only $40 they are pretty hot I might have to search for these.
Military Inspired Looks